What to see near Belgrade in a day trip excursion?
Belgrade is an exciting city where you'll have what to do and see for a few days. But I recommend you take at least one day to visit some places of interest near Belgrade. You can go on a day trip near Belgrade by using public transportation, renting a car, or
hiring a driver
.
You have probably already heard about the main attractions in Serbia. Kopaonik, Zlatibor, Tara National Park, Golubac Fortress, .etc are some of the most beautiful places in Serbia. But the thing is, all these points of interest are far away from Belgrade.
If you are not willing to have a long ride to visit them, this post is the right place for you. Discover the five best day trips around Belgrade. I'll introduce you to places of interest less than 100 kilometers away from the Serbian capital.
Novi Sad, Petrovaradin Fortress, and Sremski Karlovci
Novi Sad is the second largest city in Serbia. It's very popular because of its well-preserved 18th-century European architecture and unique charm. You can reach there by fast train and bus, although many tour agencies offer tours to Novi Sad. Of course,
a private round-trip to Novi Sad from Belgrade
is the best option for this day trip.
Sremski Karlovci is a charming historical town on the way to Novi Sad you also should visit. And a famous Petrovaradin Fortress is next to Novi Sad. You can read more about the day trip to Novi Sad on this page. And, have in mind that a trip to Novi Sad is possible to connect with your trip to Fruska Gora, which is next on my list.
Distance from Belgrade:
Points of interest:
Useful links:
Fruska Gora National Park
Fruska Gora is a mountain and national park near Novi Sad. Do not expect spectacular nature like in Tara or other national parks in Serbia.
But if you wish to spend some time surrounded by greenery, visit a few old monasteries in that area, or have a wine-tasting tour, Fruska Gora is a good choice for a day trip from Belgrade. Also, there is a Vrdnik Spa Resort where you relax in swimming pools and spa centers in one of the great hotels.
If you like to hike or ride a bicycle, Fruska Gora has excellent trails through the forest. You can reach a few lakes and viewpoints in this national park that are not accessible by car.
You can include sightseeing of Fruska Gora on your day trip to Novi Sad.
Fruska Gora – Distance from Belgrade:
Fruska Gora – points of interest:
Useful links:
With a peak at an altitude of only 511 meters above sea level, Avala is
officially
the lowest mountain in Serbia. But it's a green oasis next to Belgrade worth visiting.
The main attraction is the Avala Tower, open for visitors, and the Monument of an unknown hero. Also, there are a few excellent restaurants where you can have lunch in the ambiance of the forest around. Avala is the nearest to Belgrade of all places I'll mention in this post. Also, Avala is the only place on this list where you can go by public city bus transportation. Of course, you can hire a
highly
professional taxi driver for this round trip.
If you wish to extend your trip to Avala to visit more places, you can include a trip to Smederevo or Kosmaj mentioned below
.
Avala – Distance from Belgrade:
Аvala – points of interest:
Useful links:
Kosmaj is another place of interest near Belgrade where you can enjoy in surroundings of nature. This little mountain (626 m) is 40 kilometers away from Mount Avala. Nothing special, but you can visit a few places of interest on your
custom-tailored tour
.
One-hour hike through the forest trail to the remainings of the ancient monastery of Kastaljan can be the experience you are looking for.
Kosmaj – Distance from Belgrade:
Kosmaj – points of interest:
Useful links:
Smederevo is a little town near Belgrade, located on the bank of the Danube river. It has a pedestrian street and a city square packed with coffee bars. But the main attraction is Smederevo Fortress. You may also visit a city museum which is very interesting.
And to complete a trip to Smederevo, I recommend you visit the archeological site of Vinca and Restaurant Vinogradi (Vineyards)
. This restaurant has a beautiful panoramic view. If you wish to extend your excursion, adding Avala or Kosmaj to this itinerary is the easiest.
Also, further away attractions, such as Ram Fortress, or the famous Golubac Fortress, are easy to connect with this trip
.
Smederevo – Distance from Belgrade:
Smederevo – points of interest:
Useful links:
Valjevo – my favorite tour near Belgrade
Imagine a day trip in Serbia, an hour from Belgrade, where you can expect to meet Serbian history, architecture, cuisine, and nature at once
. Ok,
maybe
architecture is not like in Novi Sad, and nature is not like in Tara National Park. But, still, this tour combines everything, and you'll not spend too much time in the car.
Valjevo is a small Serbian historic town. It
is surrounded by
beautiful monasteries, restaurants, and nature sights nearby. If you wish to extend your tour to hike or ski, you can go to the nearby mountain Divcibare.
Also, if you have a trip from Belgrade to Tara National Park, Perucac, or Mokra Gora, you can visit Valjevo on the way there
.
Valjevo – Distance from Belgrade:
Valjevo – points of interest:
Useful links:
Need a private driver from Belgrade?
Hire a driver for your airport transfer, long-distance taxi, or sightseeing round-trip in Serbia.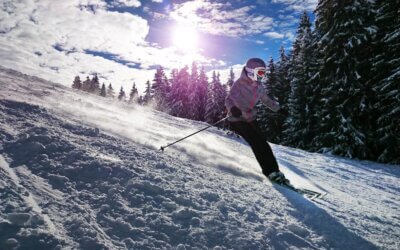 Wondering which are the best ski slopes for beginners on Kopaonik,  Serbia? If you have already...
read more